Booking.com6.6
Expedia.nl7.4
Google7.0
Centrally located hotel near Den Bosch
Welcome to Fletcher Hotel-Restaurant 's-Hertogenbosch. You will find our hotel in the outskirts of the city of Den Bosch. On the spacious terrace of the hotel you can enjoy a beautiful view over the water.
Comfortable and centrally located hotel in Rosmalen
Large lounge terrace with views over the Rosmalense Plas
On the outskirts of Den Bosch
Thirteen multifunctional meeting rooms
Relaxed stay
Fletcher Hotel-Restaurant 's-Hertogenbosch is the ideal base for a relaxing and enjoyable weekend getaway. Discover the natural surroundings of the hotel by using our e-bike rental service. After a cycling or walking tour, you can join us in our atmospheric à la carte restaurant for a wonderful lunch or delicious 3-course dinner.
Fletcher Hotel-Restaurant 's-Hertogenbosch is also the perfect location for business gatherings. The hotel has a number of practical meeting rooms which can also be used for parties and other celebrations.
Nature and culture
In the surroundings of Fletcher Hotel-Restaurant 's-Hertogenbosch you can find plenty of entertainment. The characteristic city centre of Den Bosch is only ten minutes away from the hotel in Rosmalen. In the middle of the city center you will find the beautiful St. John's Cathedral. Nature lovers can indulge themselves in the versatile nature reserves Het Bossche Broek, National Park Loonse en Drunense Duinen and De Moerputten.
Our team welcomes you!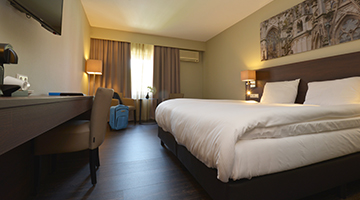 Photos and videos
Do you already want to get in the mood before you arrive at our hotel? Check out the photos and videos of our hotel here.




Photos and videos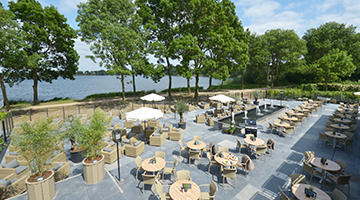 Centrally located hotel
The large terrace is definitely a plus for the hotel. From the spacious terrace you have a beautiful view over the water. It is also possible to organize a BBQ on the terrace. The hotel is located on the A2 motorway, making the hotel easily to reach.

Facilities
Loon and Drunen Dunes National Park
Near the hotel is the Loon and Drunen Dunes National Park, where nature lovers can indulge themselves. You can also visit the cosy city of Den Bosch, where you will find many shops, terraces and culture for your enjoyment.

Surroundings